Safety
SAFETY

FIRST

!
There's no denying it; the risk of injury is present at every job site. With that said, it's unfortunate that within the construction industry the phrase "Safety First" has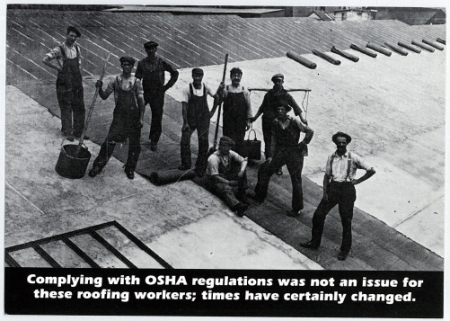 become a cliché to many – mere words, not actions as demonstrated by what we see around us on a daily basis. Other roofing company's crews have been observed working in hazardous conditions with a lack of (if any) safety equipment – risking a quick buck at the expense of life and limb of their hardworking employees. Such practices could not be further from Sprick Roofing's long-standing philosophy of incorporating the latest personal protective equipment and established safety procedures ensuring each employee's health and safety truly are FIRST above everything else we do. We plan to do it safely or NOT AT ALL. No job, no matter what the price, is worth doing otherwise. For that reason, we prioritize everything we do in this order – no exceptions:
1 – Safety, 2 – Quality, 3 – Production.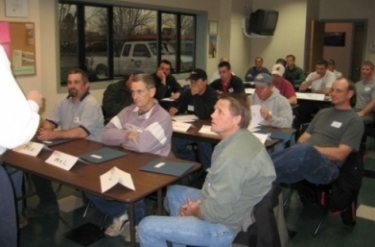 All employees must complete orientation training covering a variety of topics from fall protection to hazardous material awareness before ever stepping onto a roof, as well as attend numerous hours of scheduled safety trainings on a regular basis.
Our effective on-going efforts are evidenced in our low accident and insurance rates and help us maintain a safe working environment for our crews, other jobsite workers, building tenants, customers and protection from property damage.
A partial list of our training and policies includes:
• Written, enforced safety rules and disciplinary consequences, which very employee must agree to and sign.
• Safety Committee. Employees at all levels participate in the development and implementation of Sprick Roofing Co., Inc. safety programs.
• OSHA trained dedicated safety director. Personally trains employees and ensures procedures are followed and projects are completed safely.
• Drug and Alcohol Supervisor Training. All crew leaders are trained to recognize, document, confront and rectify problem employees as outlined in our Drug Free Workplace Policy.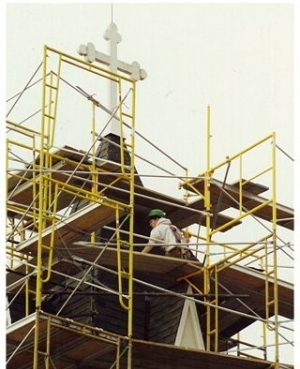 • Written fall protection plan for every job
• Site specific job hazard analysis
• Bi-weekly Crew Safety Meetings
• Unscheduled Jobsite Safety Inspections
• Fire Prevention
• Weather Hazards
• Fall Protection; Lanyards and Harnesses; Slide Guards
• Crane Operator Certification
• Compressed Gas Cylinders
• Electrical Hazards
• Ladder Safety
• Ergonomic Lifting
• Personal Protective Equipment (PPE).
• Hand and Power Tools
• Fleet Safety (hydraulic lift & dump bed safety)
• Driving Safety
• Jobsite Housekeeping
• First Aid/CPR
• Forklift Certification
"Quality is never an accident; it is always the result to high intention, sincere effort, intelligent direction and skillful execution. It represents the wise choice of many alternatives."
— William A. Foster