Frequently Asked Roofing Questions
Have a question you don't see the answer to below? No problem, just ask your question here and we'll get you an answer via email or phone! You may even see your question and answer show up on this page!
During a recent downpour, our new roof leaked even though it's rained several times since it was installed and kept us dry. Did our new roof fail?
It's not unusual when the sky dumps sheets of rain in a short period of time, gutters and drains become overwhelmed and cannot empty out fast enough. You may also see this happen in city streets that flood when the storm drains fill up quickly.
Steep sloped roofs are water-shedding not waterproof so the layers of roofing are vulnerable to water intrusion with wind driven rain and/or large amounts of rain which can back up at valleys and roof penetrations if drainage isn't swift enough. Even low sloped roofs that are designed to be waterproof can become virtual swimming pools when the scuppers and drains are filled beyond their capacity. When this happens, water can rise past the clearance heights the flashings were designed for.
The good news is these types of weather conditions are occasional and in most cases not an indication of a failed roof system.
What is an ENERGY STAR qualified roof product?
It is a reflective roof product that lowers roof surface temperature by up to 100°F, thereby decreasing the amount of heat transferred into a building's interior. ENERGY STAR qualified roof products save energy by reducing the amount of air conditioning needed to keep a building comfortable, thereby saving money. Generally, white composition shingles, metal, light colored single-ply membranes and some roof coatings qualify for the ENERGY STAR rating.
Whether tax rebates are available for using such products changes on a yearly basis; so if you're using them in hopes of saving money you'd be wise to pencil out the projected rebates and energy savings compared to the (usually) higher upfront material costs and the fact that in the Pacific Northwest we have more heating months than cooling months.
I've had a roof leak repaired several times and I get billed for each visit – why do I have to pay for repeat visits if it wasn't fixed the first time?
This is a common question and frustration. Some roof leaks are easy to pinpoint, but they can be incredibly illusive due to building design, weather conditions (does it only leak during blowing rain?), and age of the roof covering. Because we don't have x-ray vision, often we're only left with deductive reasoning – starting with the most obvious and logical causes; then as needed we methodically narrow down the other possible options, which takes time, effort and unfortunately – money. Repair warranties are rare unless done by the contractor who originally installed the roof, but in some cases are offered if the area can be clearly defined.
It's not unlike going to the doctor to figure out what's causing a particular pain. Sometimes it's obvious so you're given a prescription and sent on your way; other times it takes several tests to find a diagnosis, but you still pay for each office visit and test conducted because you are paying for the expertise of the people trying to solve the problem. It stands to reason that the more experience one has with a subject, the time needed getting from point A to point B is narrowed accordingly, so keep this in mind when hiring any professional – the good ones will ultimately save you money in the long run.
What should I know about maintaining my roof?
Regularly scheduled roof inspections and maintenance are critical for the optimal performance of your roofing system and to ensure you get the most out of your investment. "Out of sight, out of mind" is not the strategy that would be in your best interest. As with your vehicle, where regular oil changes are an essential part of maintaining the expensive engine, the same is true for your roofing system. Also, nearly all material warranties require regular maintenance to avoid any limitation, or lapse, in coverage – with it being your obligation to provide proof that it was routinely done.

Whether it's a low slope or a steep slope roof system covering either residential or commercial use, keeping water flowing properly off and away from the building is vital and ensures the most value from your roof investment. This includes keeping debris clear from drains, gutters, downspouts and all penetrations to prevent pooling of water and trapped moisture that causes damage. Remember, sloped roofs are water-shedding, not water-proof, so rely on gravity to do the work of keeping rain moving downward. When water has a chance to defy it, for example when debris builds up, it no longer sheds properly and can travel sideways or back up underneath the roof layers. This concept applies to debris that builds up in valleys, around chimneys, skylights, vents and pipe stacks.


Chimneys also should be checked for soundness. If the chimney is brick, is the mortar intact? Is the cap in good condition? Do the base and counter flashings look tight, or need caulking? Often during periods of heavy rain, unsealed brick absorbs more water than it can handle, which eventually enters the interior—especially if the fireplace is not often used and doesn't get the chance to dry out. Siding on chimney chases also can be a source of leakage if not kept up with paint and caulked as needed.
Bottom-line, paying for a new roof and then forgetting it can be a losing proposition, resulting in tenant hassles, limited warranty coverage, premature aging of the roof, and costly interior damage; therefore, we highly recommend being proactive with regular maintenance to protect your building investment. And if you don't think your roof is that important – remember it's protecting everything below that you may feel is.
Steps for Choosing a Professional Roofing Contractor
"The satisfaction of a job well done long outlives the initial thrill of a dollar saved."
Paying for something twice, especially if it costs several thousand dollars, is not a goal one normally strives for, but is an occurrence in this business more than it should be, often because consumers have not done their homework. Becoming educated on the process is the best way to protect your valuable assets, be it your home, rental property or commercial property. Below are several tips to help you with the process of evaluating and selecting a qualified roofing contractor for your project.
Use the yellow pages to look up phone numbers, not to choose a roofing contractor. The ad tells you nothing about a contractor's integrity. Remember the ads are written and paid for by the business placing them, and they are under no obligation to be perfectly truthful, nor is it the ad rep's job to police what is placed in them. Rely on referrals from friends, family members, co-workers, lumberyards, and general contractors. Pay attention to the names that continually come up in a positive light—that is where you start.
Verify the numbers –

A permanent place of business & telephone being answered with the business' name
Federal tax identification number
Business license number—In Oregon call the Construction Contractor's Board in Salem 503-378-4621, or visit their website at www.ccb.state.or.us. Use the automated system to quickly verify license numbers, whether a contractor is bonded and insured, and if previous claims brought against the contractor have been satisfactorily resolved.
Years in business under the current name. Be wary of lines stating, "25 years experience" – what does that really mean? Have they been in business that long, or are they just adding up the 5 guys they have working that each have been roofing for 5 years?
Call your local Better Business Bureau to check on possible complaints filed against the contractor. In the Oregon and Western Washington area call 1-800-488-4155 or visit their website at www.bbb.org.
Don't be shy about asking for proof of liability and worker's compensation insurance. Insist that certificates of proof be sent directly to you from the insuring companies, and make sure the coverage's are in effect through the duration of your project. Important: If the contractor is not properly insured, you may be liable for accidents that occur on your property, including damages to objects as well as people. DO

NOT

ALLOW

YOURSELF

TO BE AT

RISK

! You can learn more about how to understand an Acord Certificate of Insurance here [pdf]
Insist on written proposals, and check it for details. A vague contract is not what you are after here, because it often will not be in your favor should there be questions later. Compare contracts "Apples for Apples," and be mindful of what is not included in the contract, as well as what is. For comparing residential contracts, you may wish to download the

NRCA

document titled "Residential Roofing Contractor Qualification Form" to guide you through this process. (www.nrca.net/consumer/resqual.pdf) Upon receipt of the proposal, evaluate how the document looks in general. Is it professional looking? Is it legible, without obvious errors? Or does it look as if it was completed in haste? This may be the first indication of the kind of workmanship you can expect on your roof. If the first impression you get is not a good one, don't kid yourself into thinking things will get better.
Check to see if the contractor is a member of any regional or national industry associations, such as the National Roofing Contractors Association (www.nrca.net). Being a member of industry associations demonstrates a commitment to professionalism.
Ask the contractor to explain their procedures for quality control, job supervision, safety practices, and clean up. If the contractor acts indignant at having to answer this, or cannot readily supply you with satisfactory answers—run, don't walk to the next one on your list.
And speaking of lists, how many bids should one obtain before making a decision? The more homework you've done prior to getting pricing, the smaller the list will be. Once you've narrowed the field substantially to only those who come highly recommended and whom you feel have ethically answered the above items, price becomes less of an issue to compare contractors by, and more of a gauge for your budget. A professional roofing contractor knows what to charge to stay in business, and their knowledge will often save you hundreds if not thousands of dollars over the life of the roof. If you are getting more than 2, or 3 bids, it is our opinion that you are going about the process in reverse by comparing contractors based on price, rather than quality.
Bottom line, keep a healthy skepticism about the lowest bid. If it sounds too good to be true, it more than likely is. Fly-by-night contractors can give you low prices because they often are not insured, do not pay taxes, pay their help next to nothing, use a truck as their permanent place of business, do substandard work, and definitely cannot be found when the problems arise. A contractor with a proven track record of customer satisfaction, who will be there for you in the future, is security well worth paying for.
How will my project be scheduled?
Upon receipt of your signed contract and deposit, we'll evaluate weather patterns for the current time of year and our slate of scheduled work to give you our best estimate of when your project will start. We diligently try to follow the "first come, first served" philosophy; however because we're at the mercy of Mother Nature and the specific requirements of each project, our scheduling system is not an exact science. While we cannot give a definite date and time as a dentist's office can, we will do our best to keep you informed as the start date nears and work earnestly to meet your project timelines and the anticipated dates that are most convenient for you.
Do I need to be home during the re-roofing project?
Being present or not is entirely up to your tolerance for noise and debris, and comfort level that we will do our utmost to protect your property in your absence. Rarely is it necessary that a building owner be present; if we have a contact phone number, we are good to go. In an effort to make the job as convenient and stress-free as possible, we present you with a written list of project expectations and certain precautions you can take to minimize problems that are beyond our control. Often a pre-job meeting is arranged to discuss any additional questions or concerns you may have, or draw our attention to special circumstances related to your project.
In most cases, there is no need for us to enter the building except on the occasion that we may need a power connection. But, because we travel with our own generators, power equipment, and port-a-potties, we are fairly self-contained and need not bother you anymore than absolutely necessary. Sit back, relax and let us do our work … preferably for you, next to a quiet pool somewhere.
What can you tell me about skylights?
If you are at all considering adding skylights, the perfect time is in conjunction with the re-roofing process. Of all the enhancements one can choose to make to a building, we believe one of the greatest returns for the dollar comes from skylights. Natural light makes spaces appear larger, warmer, and more inviting, and studies abound on the positive affects it can have on people.
Depending upon the type of construction being cut into, and the area to be light enhanced, a standard sized non-opening light will be the easiest on the budget, but virtually any custom size and shape can be made to order. Choosing between glass (tinted or clear), or acrylic (clear, tinted or frosted) is often a matter of personal choice. Glass tends to scratch less, but acrylic typically costs less, allows for more design flexibility, and allows virtually no transmission of UV rays, protecting furniture and carpet from discoloring. "Tubular" skylights are also a nice option and offer more in the way of placement options, when a conventional light may not work (see our additional products page).
Currently, my house has no attic ventilation. Should this be considered when the house is re-roofed?
Absolutely, and your roofing contractor should automatically assess it as part of the estimation process. Adequate ventilation is an important step in the roofing process, but one that is often overlooked. Not only are there building code requirements, but with today's airtight homes attic ventilation is essential to reduce heat and moisture build up which will eventually seep into the living spaces of the home. Proper venting can reduce energy costs, mold and mildew growth, increase the efficiency of the insulation and reduce premature aging of the roofing material. Also, most roofing manufacturers require proper attic ventilation as a condition of the warranty's validity.
There are a variety of venting options to suit your home's style and construction, so be sure to protect your investment and inquire which will best meet your needs.
It's winter and we need a new roof; are we out of luck until the spring?
Not necessarily. A common misnomer is that re-roofing here in the Willamette Valley happens only when the sun is shining…which is when? Seriously, many people think it rains constantly from October through February, but we have many days of overcast skies — with little or no rainfall. This enables us to get a lot of work done, although in smaller bites at a time. Because we are responsible for your property while on it, great care is taken to minimize the risk of moisture intrusion, at times of the year. Even during the hottest days of summer, we never leave anything open to the weather — this is unpredictable Oregon, after all. So yes, we roof all year round — by working in smaller controllable sections while keeping one eye on the weather at all times.
Another plus to winter roofing is that our schedule is more open and flexible, as opposed to the logjam of projects lined up during the summer and fall. But regardless of your timing, it doesn't hurt to start planning at least a season ahead — otherwise you may not have the luxury of choosing the ideal time that works for your schedule, because we are already booked out.
What should I know about warranties?
First off, they are only as good as the company backing them — meaning, many times they're not worth the paper they're written on. Workmanship warranties ensure against improper installation of a product; a manufacturer warrants the product itself.
An installer can have a 10-year workmanship warranty, but if they aren't around in two years to honor it, what good is it? Ask to see a copy of it, and question how they'll respond should something go south — if they claim nothing ever has, they're lying. The difference between a good company and a bad one is in how they rectify their mistakes.
Also, read the fine print on the manufacturer's warranty. If a material has a "Lifetime" warranty, whose lifetime do they mean? What are the limitations, how quickly does the product prorate, and does it cover labor costs to remove and reinstall the product? Bottom line, all bets are off if the install specifications aren't followed correctly — so the key to a successful project ultimately lies with the installer.
Please explain your hiring process.
All prospective employees must fill out a two-page application complete with references and a well-documented work history. The process stops there if we do not receive enough verifiable information (large gaps in the work history, names without phone numbers, etc.). We take no one on good looks alone!
After an applicant has satisfactorily passed our rigorous reference checking, and a criminal background check, he/she is interviewed. We hire based more on attitude and ethics than initial skill level. We'd much rather train and develop skill levels than try to break bad construction habits — or attempt to instill morals. In doing so, we are more assured that those we assign to work on your expensive asset are aligned with our company's values and are focused on the task at hand, diligently and safely.
My house is on the market and needs a new roof. What should I consider when choosing the new roof?
A common mistake we see by sellers is to solely consider function (usually the cheapest to get by with), without regard to aesthetics — and thereby negatively impacting the home's curb appeal and narrowing the pool of potential buyers. Look at your home from a distance and evaluate the ratio between the roof and the house. The steeper the roof, the more it affects the overall look of the home, so choosing the right material becomes increasingly important. Also, certain home styles beg for particular types of roofing, such as a Tudor style with shakes or tile, while others with a simple house body could be jazzed up with a patterned roof. There are a variety of composition shingles now that mock the look of shakes, tile and slate — so a specialty look can be accomplished to suit most budgets.
When selling a property, something else to consider is setting aside money for the new roof as part of the sale, so the buyer can then decide the style and color of their liking.
What can you tell me about metal roofing?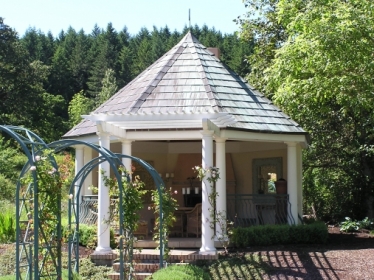 Metal roofing is gaining popularity for a variety of reasons. It's lightweight (about one-half to one-third the weight of a typical composition roof), long lasting (50 years for painted steel or in excess of 100 years for copper), fireproof, and relatively maintenance free. It is suitable for low-slope or steep slope roof configurations, is designed to handle heavy snow and ice loads, and can withstand extreme wind conditions with wind speeds up to 140 miles per hour.
There is a wide range of colors and styles to choose from suiting virtually any building style — be it for residential, agricultural, or commercial use. Examples include vertical standing seam panels, horizontal panels, interlocking shingle panels, and granule-coated steel panels in a variety of profiles emulating the look of composition shingles and tile.
I have an outdoor deck with a living area below, what are my waterproofing options?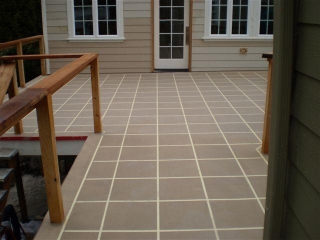 Conventional low-slope roofing is not designed to withstand heavy foot traffic, or chairs being dragged across it, for obvious reasons — one hole in the system and the purpose is defeated. You could float a wood deck over it (meaning it isn't nailed into the roof, but sits on top), or tile over the roofing, but those have their own set of challenges. For instance, a wood deck may interfere with door clearance, and tile that's mortared in place can make any future roof leaks extremely difficult to repair.
One popular solution is a seamless, liquid-applied elastomeric waterproof roof system. It can be installed on wood, concrete, or over most existing deck systems, and is available in a variety of colors and grid layout options. It is Class-A fire-rated, withstands severe-weather sun deck damage, is slip resistant, flexible in freeze-thaw situations and extremely tough. The system is commonly used on ferryboats with cars driving over it, as well as, ski lodges trampled by thousands of ski boots each season.
Are wood shakes still available as a roofing option?
Absolutely, although the high prices reflect the limited supply due to the decrease in logging compared with 20 years ago. There are a variety of options to choose from, be it grade (quality of the wood) length, width, thickness, and style (handsplit/re-sawn, or taper-sawn).
Choose premium or #1 grade wood. Premiums are clear heartwood and 100% edge grain, and #1 grade is defined as not more than 20% flat grain. '#1 Grade Select' is also an option and have a maximum of 10% flat grain and are '2 pack' – meaning the shakes are wider with the majority of shakes packed 2 wide per bundle. #2 grade shakes are also available, but the inconsistent quality is not something we'd consider roofing a house with.
Medium shakes have a ½ inch minimum thickness at the butt, heavy shakes are a minimum of ¾ inch, and jumbos have 1¼ inch minimums. Generally, a non-treated, well cared for (kept clear of debris) medium shake roof lasts 18 to 20 years, and heavy shakes 25 to 30 years. Longer life spans are available with treated wood, as are treated fire-retardant shakes. Some mills also provide written warranties, unheard of in the past.
I'm hearing more about green roofs, can you explain what exactly is meant by that?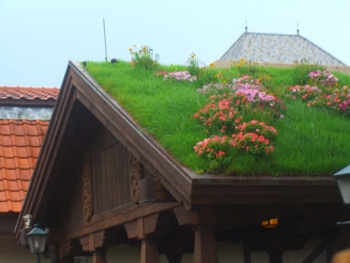 Traditionally, 'green roofing' meant just that, actual green vegetative material on roofs. However, the term "green" is becoming more generic to relate to all things environmentally friendly, whether relating to sustainability, recyclability, reflectivity, energy efficiency and/or energy producing. Your confusion is not unfounded as this rapidly growing sector is also being hotly debated by the numerous stakeholders within the roofing industry as they struggle to define it for building code and material testing purposes. Building codes govern and regulate the standards for load, wind and fire ratings and currently there are few standards specific to "green roofing." The same is true of the American Standard Testing Methods (ASTM) and Underwriters Laboratories (UL), as they are long away from developing standardized testing and rating methods of the actual plant life for fire resistance and wind uplift — this applies to other "green roof assemblies" as well, such as solar panels, and integrated systems being developed on a daily basis.
What does all this boil down to? Essentially, due to the lack of testing and rating methods, or building codes for these new systems, the insurance industry is also in a quandary. Who's responsible when components are flying off buildings, or the vegetation catches fire? These questions and others will need to be answered as the green movement has taken root and will be growing for a long time to come.
Is it true that if I hire an uninsured contractor, unwittingly or not, I could be held liable for damages or injuries occurred on my jobsite?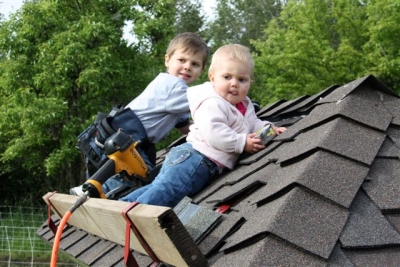 Yes! Not only that, but if not properly insured then they're also not licensed and thus working illegally in the state of Oregon. If unlicensed, the Construction Contractors Board (CCB) will not help you, except to fine the contractor for working illegally. If uninsured, the next natural question would be, do they pay their bills? If not, how would you like to pay for the materials delivered to your site, twice? Don't kid yourself that your home won't have a lien filed against it by a supplier should the contractor neglect to pay them — it happens all the time. Please, please remember — yellow page ads are written by those paying for them and NOT verified for accuracy by the ad reps. They can claim anything & everything — true or not. Protect your investment, and keep yourself from being sued, by checking EVERYONE you hire to work on your property. It's easy & worth the little time spent to do so. The CCB website: www.ccb.state.or.us Phone: 503-371-4621.
I have a low slope roof with a hot asphalt built up roof (BUR) system on it and recently a roofer told me they only really last 5-7 years, is that true?
It's false, unless the installer did a lousy job to begin with. Those who claim BUR roofs last a mere 5-7 years are the people who have never installed them and are most likely trying to talk you into prematurely re-roofing your property. Although the manufacturers warranty the material for 10 years, we've seen them last 15 to 30 years depending upon the building design and use, number of plies (layers) and attention given to regular maintenance.
BUR roofs have a long history of performance, but do require specialized equipment and expertise to install so there are fewer companies still offering this very viable option. For those who still wish to compete for low-slope projects, they will push the newer single ply systems and discredit others to get the job. Our recommendation, no matter what type of roof you have, is to first seek advice from qualified roofing contractors who install the system you currently have to get an accurate evaluation of its condition before making a decision about replacement.
My house has a roof less than a 3/12 slope. The manufacturer says it's okay to install asphalt shingles, is that correct?
Asphalt shingle roof systems are water-shedding, not waterproof, and rely on gravity and roof slope to effectively drain water. Although some manufacturers will allow the application of asphalt shingles on roofs with lower slopes, keep in mind that their objective is to sell product and they are not guaranteeing the installation process, but the shingle itself.  We do not recommend shingles on slopes less than 4:12, and in cases where the slope is between 3:12 and 4:12, a double layer of #15 felt or fully adhered waterproof underlayment should be applied as added protection. 
I have a shake roof, what maintenance is recommended?
As with all roofs, keeping debris cleared so that water sheds toward the drains is the most important maintenance item, this being especially true with shakes or wood shingles. Allowing debris to accumulate not only impedes proper water flow, but encourages dry-rot, deteriorating the wood and accelerating the loss of natural life. An average life for a well cared for medium shake roof in the Willamette Valley is 20 years. "Well cared for" does not mean oil treated, but gently cleaned so that the wood can breathe.
Stay off the shakes during the summer heat when they are at their driest and prone to cracking. Better yet, for your own health and well-being stay off the roof altogether and leave it to the licensed roofing professionals who are trained to safely and properly clean (without causing further damage) and make repairs as needed.
A company that cleans carpets and windows asked if I also wanted my roof cleaned—what are your thoughts?
The first thought is the old saying, "Jack of all trades, master of none." Making the assumption that all cleanings are equal, would be a grave mistake in our opinion — it's more than just a little water here and a little soap there. Just as we wouldn't profess to be experts in cleaning carpets, neither should a non-roofing professional do the same. And although the company may have a business license from the State of Oregon, they aren't necessarily licensed with the Construction Contractors Board (CCB), and the law requires said licensure if they repair even one item on your roof.
If they're not licensed with the CCB you are NOT protected and could be liable for damages they cause not only to your property, but their employees as well. These "cleaners" generally DO NOT have the proper liability insurance, bonds or worker's compensation packages — let alone proper technical and/or safety training to work on roofs. Check if they're licensed with the CCB (503-378-4621), and if not, run in the other direction — they will likely cause you more long-term grief than you'd bargain for.
What does the term recover mean?
The roofing industry uses the term recover to mean the installation of a new roofing system over an existing roof. If viable, it can be an alternative approach to roof replacement. The major advantages to this approach are the cost savings associated with not having to remove and dispose of the existing roof membrane and the reduction of materials sent to landfills. With low sloped roofs, there is also an opportunity to improve the thermal performance of the roof system because most recovers include the installation of a thin section of insulation or other material to separate and protect the new roof membrane from the existing roof membrane. Another advantage that recovering has over replacement is that the existing membrane stays in place, protecting the interior from potential water damage while the new roof is being installed.
An important issue that must be addressed prior to any recover is determining whether moisture is present under the existing system. Trapping water within an existing roof assembly is a problem that often occurs with improperly executed recover projects, leading to dry-rot and/or mold growth if merely covered up rather than being rectified. Also, steep sloped roofs present an aesthetic challenge because in many cases the previous roof layer will still be visible dependent upon the type of new roof system covering it.
A key factor influencing whether or not a recover project is feasible is establishing how many roof systems or layers are currently in place, which requires making inspection openings (known as core samples). Most building codes allow a maximum of two roof systems on a structure, mostly due to the weight associated with the roofing materials. Other code-related issues are wind up-lift and fire resistance, which the building's insurance carrier may also influence through specific requirements.